227235
story
Space shooters are beyond a dying breed. They're dead. When a member of this now-rarefied genre comes lurching at you from the darkness, it's always a good idea to be wary. And a shooter with an anime flavour, evoking the memory of the Macross and Robotech series? It has to be bad, right? Yet, somehow, Square/Enix has delivered a thrill-ride of a space plane game; Ace Combat with blue hair. The frighteningly titled Project Sylpheed has a clunky menu system, an overly complicated HUD, mediocre voice acting, and an easily-skippable story. Thankfully, none of that matters. When you're in your fighter, it's so ... so good. Read on for my impressions of this quirkily appealing arcade-style shooter.
Title: Project Sylpheed
Developer/Publisher: Game Arts, Microsoft Game Studios
System: 360
Genre: Arcade-Style Space Shooter
Score: 3/5 - This game is flawed, but will appeal to genre fans. Any gamer might enjoy renting it, but this won't ever be a classic.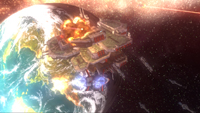 Let's run down the anime cliches: Vaguely feminine main character with cute-but-not-too-cute female sidekick? Check. Laser weapons on capital ships that can bend in space? Check. Overly engineered space fighters? Check. Story of personal loss and redemption? Triple check. The outward trappings of this game will make you perfectly at home if you have ever had the fortune to hear Minmei sing. The only thing missing is the transforming robot jets.

Thankfully, you won't miss them. The story is a semi-decent distraction. The forces of ADAN, allied former Terran colonies who broke away from the motherland, are striking hard against the Terran alliance. They're fighting to re-affirm their freedom after what appears to be the senseless slaughter of an entire planet by military forces. Your protagonist is an uber-talented rookie, friends with a cute fellow pilot and arch-foe of a former pilot who has now joined the ADAN military. The cutscenes are full of breathless exclamations of surprise and tight-fitting space suits. Just the same, the cutscenes have two things going for them: vague hints of something deeper to ADAN's story of planetary cleansing, and the ability to skip past anything you don't want to see.

While I enjoyed watching them, it's easy to understand wanting to get back to the game proper. Project Sylpheed is an all-out assault almost from the get-go. Enemy fighters come at you in waves, punctuated by larger frigates and carriers, with special named fighter units acting as boss battles in later stages. Before you start your bloody work there are usually dozens of enemies onscreen, providing you with a 'target-rich environment.' You're not alone, of course, fighting with support from your capital ship and three (mostly brain-dead) squadron-mates. Fights take place in a varied array of 'space locations', giving you a variety of pretty places to look at while you blow stuff up. Anyone not playing the game directly will be impressed by what's on the screen; if you know what you're doing the action is fast, frenetic, and beautiful.

Knowing what you're doing is the trick, of course. Your Delta Saber fighter has a dizzying array of weaponry and instruments. As such, the Xbox controller gets a stiff workout by your overwrought hands. I actually found the default setup cumbersome, and ended up remapping some things; every single control is customizable, thankfully. By default the shoulder buttons fire your weapons, while the triggers boost and brake your ship. I reversed these, as I found it awkward to hold down the RB for an extended period of time. Your mileage may vary.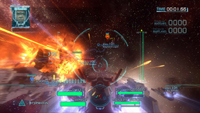 The Delta Saber has three different weapon systems plus a nose cone popgun. This means that you have several choices of ordinance to bring to bear on every situation. Surprisingly, none are superfluous. There's an anti-aircraft missile system, which locks onto targets as they come within your field of fire. Dozens of missiles can be aimed at multiple targets just by sticking closeby. Upon releasing the fire button they soar away from your ship like deadly homing birds, creating a beautiful and ultimately fiery ballet. A larger set of missles is available for frigates, destroyers and the like, while a railgun acts as a catch-all choice that can be directed at either sized-target with deadly effect. It's simple to switch between weapon systems with the twitch of a thumb; the downside to this is that often pits you against a wave of fighters and their destroyer escort at the same time.

Those scenarios are always quite challenging, as you're forced to make some tough choices. Toughness is a watchword of this game, but not frustratingly so. Sylpheed is very much an arcade shooter, right down to the arbitrary clock on each mission. You're given a warning when there are only three minutes left on the clock; when it runs out the captain of your capital ship says that you are 'unable to fight any longer.' I'm not really sure I understand this, but it does make for tense level design. Even If you screw up, there's no real problem. You're encouraged to go back and re-try levels on which you do poorly.

A letter grade measures your success in each mission, based on the number of ships destroyed and the completion of some 'sub-objectives'; these sub-objectives are never really spelled out, but the game's Achievements often revolve around them. As such, when you do end up with a new medal (their in-game representation) you can rest assured that you did good. Points are awarded for your successes, which can in turn be spent on weapon upgrades for your ship. There are a wide variety of systems available for purchase on the Delta Saber, and collecting them all seems to be another happy aspect of the game's arcade element.

Not all is perfect in space, of course; aside from the aforementioned throwaway plot and some ... interesting choices in voice acting, some design and system issues tear at the edges of this otherwise pretty picture. As in many games, the other pilots are of almost no help whatsoever. That's to be expected, but they also have a nasty habit of flying directly between you and your target. This results in annoying cries of "watch where you're shooting". The D-pad acts as command center for your squadron, and they'll follow your orders to the best of their ability. The problem is that friendly fire significantly takes away from your points earned for a given mission. This gets really old, really fast.


The other major problem is an occasional noticeable graphical slowdown. I have my 360 fairly well ventilated, but despite that there were several battles where a wall of oncoming enemies caused some sluggish turning. In a game where being able to execute snap turns and dodge oncoming laser fire are essential skills, that can lead to some frustrating trips back to the briefing room. All the other issues I had with the game were fairly minor. The title did little to explain what exactly you were buying, for example, despite some basic letter grades attached to weaponry range and damage. Likewise, the tutorial at the game's start seemed woefully unhelpful once I was actually in the thick of things.

Thankfully, everything about this game is easy to pick up. Project Sylpheed is a brainlessly fun, easy-to-like title for your next-gen console. A complete lack of multiplayer condemns this to a few months of enjoyment , or even a rental, but don't let that stop you from trying it out. If you miss this under-appreciated genre, Sylpheed is going to hit every synapse just right. Barrel-rolling through a flight of dozens of enemy starships, all while locking-on and firing-off volleys of missiles, is a blast any space shooter fan shouldn't pass up. My biggest complaint about the whole game is that, once again, I find myself really wanting a next generation version of Tie Fighter.