1483437
story
Along with pale imitations, it seems the destiny of genre-defining games to provoke a reversal in design decisions. The success of 3D platformers has lead to a renaissance in 2D gaming, World of Warcraft has pushed online game designers away from the fantasy genre, and Half-Life 2 has prompted a lot of story-light brainless shooters. It's this last genre that houses SiN Episodes: Emergence. A traditional run and gun First Person Shooter (FPS), SiN is a blood-soaked five hour jaunt you can download from Steam for about twenty bucks. At that price and that length, this Aeon Fluxian gorefest may just be a happy start for the age of episodic content. Read on for my impressions of a good-looking throwback that proves you don't need millions of dollars to make a fun title.
Title: SiN Episodes: Emergence
Developer: Ritual Entertainment
Publisher: Valve
System: PC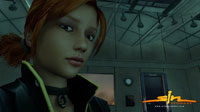 Calling SiN story-light might not be fair. It would be more accurate to say that this first episode of the 'season' isn't heavy on plot elements. Ritual plans on making these 5-8 hour gameplay releases a regular event. A 'season' will be a complete story made up of three episodes: a beginning, a middle, and an end. You're awakened at the start of this episode staring into the um, eyes of an attractive woman and a well-dressed guy. You're strapped onto a table, and have apparently been injected with something. Before you can really understand what's going on, another attractive woman comes to your aid, spiriting you away in her auto.

What follows is a textbook-standard FPS. You make your way through the grubby urban environments, a secret underground lair, and moist crawlspaces, shooting the faceless bad guys that get in your way. Weapons are fairly limited in this first episode; For most of the game you have a pistol, a shotgun, and grenades. Really, though, what else do you need? Enemy models and map creation are fairly generic, though they are competently executed. There's a couple of nice action set-pieces, such as a fight against jet-pack wearing baddies from inside a cargo crate being lifted over a body of water. The few explanatory plot moments are used with the in-game engine, as in cousin Half-Life.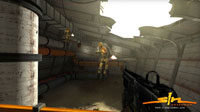 If there is a differentiating element to SiN, it is the adaptive AI and stat-tracking that haunts you throughout the game. Every bullet you fire, which gun you use, whether it hits or not, all are tracked as you move through the title. The enemies will start off fairly dumb, but if you find yourself having an easy time of it you'll start to notice the enemies beginning to adopt new tactics. If you pwn the bad guys hard enough in the first few levels, you may even find yourself outclassed when the action gets fast and furious later in the episode. This intelligent adaptation to your gameplay is a little spooky once you start noticing it. The first time you find yourself in the middle of a well-executed pincer maneuver, with soldiers on all sides closing in, you'll know you've gotten the AI's attention.

Visually, SiN looks a lot like cousin Half-Life, which only makes sense; Emergence was created with Valve's Source engine. All the 'fun with physics' moments you can have in Half-Life 2 are here in SiN, with some extra surprises. Despite what the Mythbusters had to say on the subject, compressed air tanks make surprisingly good weapons here. The polish on the game's look is less pronounced than it was with Half-Life 2, the result of a smaller budget and shorter development time. The audio is run and gun standard, but the weapon sounds are surprisingly satisfying. They have a lot of heft, which partially makes up for the very few weapons you'll have access to in the game.


If Emergence was $15, this would be a sure thing; At $20 I'm not sure this particular ride is worth the price of admission. Just the same, if you've got the money lying around and are a fan of the FPS genre, you're probably going to enjoy SiN There's nothing particularly wrong here, just a general sense of 'been there, done that'. At only five or six hours play time, you probably won't even have time to get bored before the episode is over. Future episodes will elaborate on the plot, give us more enemies to fight, and more weapons to fight with. As such, the pricetag may be more justified for future episodes. For right now, though, here's hoping they drop the price to make this bite-sized FPS morsel taste just right.