1479469
story
Long have Slashdot Editors made known the fact that we'll review pretty much any interesting gadget shipped our way. This week we have the
OWC "Mercury On-The-Go"
, a 2.5" external hard drive featuring FW800 and USB2 ports and available in 40 to 160gb flavors. Read on for my review of the drive.
I plugged it into my PowerBook using the included USB cable Since the device didn't immediately mount, I guessed I needed power too- I was disappointed, but not exactly surprised. Another dive into the box revealed a firewire and power cable. Oh, and a one page "Manual" and CD. Seconds later I was off and running.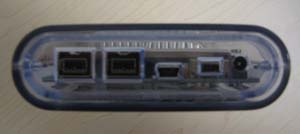 The back of the the drive tells the story: 2 FireWire 800 ports, one USB 2.0 Port, a power switch, and a power plug. The case is transparent. Of course that means all you see is a boring old hard drive. I sorta wanted to just use it upside down- the bottom of a hard drive is more aesthetically interesting than the top.
The drive arrived Mac formatted, and shipped with a bunch of wacky stuff on it, including the old Ellen Feiss Apple ad, and a directory with a slew of high quality disk icons. I'll be honest- I'm obsessive about things like drive icons. I make sure that my iPod icon is the correct version of the iPod on my desktop, or when I mount my digital camera or PSP, the icons match the device. So while I'm sure the vast majority of users would simply blow away the folder, I find touches like this very nice.
The Mercury comes with a little carrying case too. Nothing to write home about really. The unit itself is quite small- almost exactly the same size as my Nintendo DS. Unfortunately the case must also carry the power supply which makes the whole thing much larger.
I've used a number of external storage devices, and performance was roughly as I would expect. Since it's an external drive, read/write performance is really more about cabling than anything else. It took 3:36 to copy 3 gigs of data over USB, and 2:24 to copy the same 3 gigs over FW800. The upside is that the FW800 cable provides power- I was able to mount the drive without use of extra power cables.
So without further ado, I present to you my executive summary:
It looks nice. Nothing spectacular, just nice.
USB2 is slower and requires an external power supply
A good choice for FW800 support.
$150 for the 40GB version up to $450 for the 160GB version.
My struggle with this drive is really the "Why"? It occupies an incredibly expensive niche between "Portable" and "Large".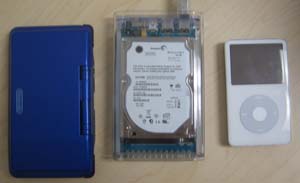 If vast storage is what you need, with less portability, a 320GB external USB drive can be had for around $150-200. Less mobile to be sure, but twice the storage for just over a third the price. I've included a photo of the Mercury with a Gameboy DS and iPod just to give you a sense of the scale of the whole thing.
The Mercury On-the-go isn't going into your shirt pocket: especially if you are using the USB connection and lugging the external power adapter. If what you really crave portability, a 60GB iPod is way smaller, doesn't require an external power supply, and runs like $400.
On the other hand, if you need 100-160 gigs, and plan to use a FW800 cable, this is a reasonable, but pricey option. It does exactly what you would expect in an external hard drive. It's quick, easy, and simple. It just doesn't seem cost effective to me.