42424
story
Reaching for perfection is a funny thing. By aiming for a high mark of quality, you ensure that your end product is as good as you can possibly make it. The reality is, of course, that perfection is unattainable. Every work of art, be it book, painting, movie, or videogame, is going to be flawed in some way; this is the reality of being human, after all. Gears of War, on that note, is far from perfect. The much-hyped and highly anticipated Xbox 360 shooter from Epic suffers from some truly terrible AI, a brief single-player campaign, and some unfortunately rough storytelling. Just the same, the flaws in this particular gem make the whole gleam that much brighter. Gears may just be the best game to be released on the 360 this year, and deserves the attention of anyone who enjoys holding a controller. Read on for my impressions of CliffyB's masterpiece, spots and all.
Title: Gears of War
Publisher: Microsoft Game Studios
Developer: Epic Systems
System: Xbox 360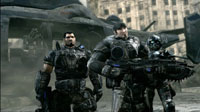 You pretty much know what you're getting into just by looking at Gears of War's box art. Four tough-looking hombres stare back at you from the cover, wearing heavy armor and wielding badass weaponry. Series protagonist Marcus Fenix doesn't wield a gun-sword, like some other videogame heroes. No, his gun has a chainsaw right there on the end. That level of subtlety should convey something, and really says all you need to know about the world Marcus lives in. To a greater or lesser extent, that chainsaw gun is all the exposition you'll get in Gears, and that's a shame. The game's plot centers around Marcus and the three other members of delta squad, as they make their way across the blasted remains of the planet Sera. Sera was once a beautiful jewel of human civilization, a fact you can reflect on as you traverse its now hulled and ruined corpse. The aliens came from below, not from above, with armies of creatures bursting up from below to threaten humanity. In response our species leveled our own weapons against Sera's cities, denying the invaders an easy win.

When we pick up the story, Marcus is just being retrieved from rotting in a jail cell by his long time friend Dom. He was imprisoned for some unknown transgression (we're told nothing more than 'cowardice'), but what with the war on everyone has gotten a 'get out of jail free' card. Dom and Marcus flee the jailhouse, and hook back up with members of the tough-as-nails members of the 'Gears'. The squad Marcus hooks up with is on a mission: take the fight to the enemy. They do so, again and again, in some incredibly varied and rich locales. Act 1's broken city-scape turns deadly at night in Act 2, and is followed in Act 3 by a haunting factory and mining complex. The only real dissapointment is the somehow more brief Act 5, which takes place very quickly on a speeding train. The story that follows those acts raises far more questions than it does answers, with a sequel obviously in mind at the game's conclusion. What's surprising is that, even with this bare-bones story and somewhat stereotypical heroes on screen, Gears of War is actually a fairly grippy tale. A combination of looks, cinematography, and genuinely likable characters accomplishes what less technically advanced titles have failed to do; for once, shiny tech actually does somewhat compensate for weak storytelling.

The likable characters are probably the weightiest of those three elements. As much as George Lucas would like you to believe otherwise, a good camera angle won't make a boring character interesting. Aside from some swear-laiden and utterly predictable dialogue, they've almost always got some interesting commentary on a given situation. Strong vocal performances give you a clear sense of who these guys are. While we don't get to know any of them well, we are given at least some sense of what they did before the war. As much as your average nerd may dislike a ropy-armed ex-football player on principle, it's hard to feel that way for long when he jokingly refers to himself as 'The Cole Train' ... and then proceeds to pepper the next ten hours or so of gameplay with references to his nickname. It's all weirdly endearing, and Epic's ability to make you care about these guys is a big selling point for future chapters in the series.

What's not endearing is how profoundly and utterly stupid these likable fellows are during actual gameplay. It is almost impossible to get across how totally unhelpful your AI assistants are during most of the game. The game's unique and highly enjoyable 'cover' system makes for high survivability in firefights. This trait is almost entirely negated if you take cover on the side facing your assailants. By the same token, mindlessly mantling back and forth over a wall while people shoot at you is not helpful. Wandering aimlessly back the way you've come while skittering horrors assail the human player is not helpful. Running straight into the fire-line of a blazing mounted weapon so that you can engage in melee combat with a grunt ... well, it's a wonder you make it to the end of the game with any AI helpers at all.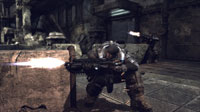 Why this aspect of gameplay was so grossly overlooked is beyond me, but most others easily surpass it in terms of polish. The 'stop and pop' playstyle suggested by the cover system works wonderfully, for example. Touted as the main attraction for the game, it's effortless to move from one area of cover to the next. Pulling the left trigger raises you up out of concealment, allowing you to lay into your opponents and quickly disappear to safety. You can no-look fire from cover as well, affording you almost complete safety. Not only is it thematically appropriate for the war on Sera, but the system almost requires some degree of forethought. Questions like "Where do I go from here?" "How can I flank him?" reveals a level of tactical depth not usually seen in console FPS titles.

In fact, most other elements of the game allow a level of tactics that has been sorely missing from the genre. The reload mini-game was questioned as a waste of time by several people I've spoken to, but extended play shows the damage boost and time savings you get from playing accurately to make a huge difference. Essentially, when you hit the reload button a slider moves along a horizontal bar. If you hit the button again in a small window along the bar, you'll reload faster. Hit it in the exact right spot, and your reloaded bullets do extra damage. In tight situations, this extra damage can mean the difference between taking on several enemies at once (almost always a losing proposition in this game), and going one-on-one. It's a small element in the overall gameplay, but a good example of how the designers have managed to make the game more thought-intensive without being clumsy.

The game's multiplayer modes allow these strategic elements to come to the fore. I've had the most experience with co-op mode, which is available both in split-screen and via Xbox Live. As the enemy AI suffers none of the abject stupidity your squad mates are cursed with, pitting yourself and another human against the might of the Locust is an incredibly satisfying experience. Flanking enemy groups, planning out routes through a given map, and discussing which weapons to use in a given encounter makes the final piece of the puzzle fall into place. Co-op multiplayer over Xbox Live in hardcore mode may just be the finest experience the Xbox 360 has to offer. It's challenging, seamless, and deeply engaging. This is the best way to play Gears of War, and has to be tried at least once by everyone who owns the disc.

More combative multiplayer is something of a mixed bag. It's quite a bit of fun ... when you can get a good group together. The problem is that, unlike the extremely robust multiplayer system offered by Halo 2, Gears of War has an almost primitive matchmaking system. Consistent teams are not allowed by the current setup. There are also currently only three gameplay types, meaning that you're going to be playing a lot of team vs. team deathmatch and not much else. Given the game's overwhelming reception there are sure to be improvements and additions to the multiplayer component, and despite the lack of variety Gears' multiplayer is already very popular. Last week Gears finally dethroned Halo 2 as the most-played title via Xbox Live. Just the same, it's frustrating that what could have been another slam-dunk element of the game is so comparatively weak.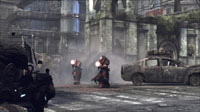 The game's biggest slam-dunk, of course, is its graphical presentation. The beauty Gears of War offers has been endlessly discussed, and can be seen in the screenshots included here. Suffice it to say that everything you've heard about the game's beauty is spot-on. Gears looks perfect. It's even more breathtaking to behold while in motion, and Epic very kindly allows you the opportunity to stop and smell the roses every once in a while. Pre-launch fears that the entire game would be a never-ending slog through greys and browns were unfounded. The game offers a differing palette of colors and effects from act to act, with the rain-soaked and subterranean portions of a factory in Act III probably getting my vote for most vivid locale. Even if you're not a console shooter fan, or hate Microsoft, or despise videogames, the visual feat that is Gears of War is just not possible to dismiss. This game is the first title I've seen to really deliver on the promise of 'next gen' graphics, and I can only hope more titles like it mark the rest of the 360's run.

So, again, we're back to the concept of perfection. The synthetic beauty on display in Gears of War is as close to perfect we've yet seen from this no-longer-next generation of consoles. With elements like innovative movement controls, subtle tactical elements, and an extraordinarily gripping co-op offering, it's hard to fault outlets that have given this game a 10 out of 10. Just the same, it's impossible to overlook the controller-tossing frustration of the AI or the lack of modernity in the game's multiplayer component. If you haven't bought the game yet, probably the best thing you can do is find out if you have a friend that already has it. If you do, you've got the recipe in place for co-op, which is the way this game really should be played. And, after all, there are sequels on the way. If nothing else, Gears of War makes you feel confident in owning a 360, and hopeful for the future of the system.