1483169
story
In the "everything old is new again" spirit of the 21st century, there have been many bad remakes, remixes, and 'reinvisionings'. The gaming industry is especially guilty, with endless sequels and a lack of imagination being oft-discussed elements at developer get-togethers. Despite all this, it does appear you can go home again. Nintendo has competently revived the series that made it a household name in the U.S., with New Super Mario Bros.. A classic 2D platformer with plenty of new tricks, Mario comes bounding to the DS with a focus on what he does best. New Super Mario Bros. is not going to make you rethink what is possible in a game; It's not going to make you cry or change your life. It will, however, make you smile. Read on for my impressions of the pudgy plumber's newest adventure.
Title: New Super Mario Bros.
Developer/Publisher: Nintendo
System: DS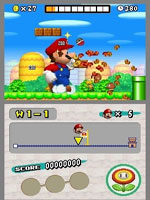 For a lot of gamers, growing up with games meant growing up with Mario. Just mentioning titles in the series can provoke memories from the far away and long ago. The first time you defeated Bowser, your first flight in the Tanooki suit, and Mario's first fumbling 3D steps are all moments we can share together as part of the collective gamer hive-mind. This shared history makes the average gamer an intuitive appreciator of New Super Mario Brothers' (NSMB) wafer-thin plot; Bowser has kidnapped Princess Peach and Mario has to save her.

What follows from the typical 'stealing the princess' scene is pure Mario flavour. You move your little red and blue plumber from left to right, avoiding Goombas, Koopa Troopas, and the occasional pit. What makes this game a worthy successor and not a cheap cash-in is the title's endless attention to detail and novelty. 1-1, for example, is an almost picture perfect mirror of the very first level of the original Super Mario Bros.. A mirror, that is, until you get over the second hill, pop the question block, and release the giant mushroom. The rest of the level rushes past in a blur as giant Mario slams through enemies, pipes, and scenery, before reaching the flag at the end of the level. This melding of the old and the new allows NSMB to mostly rise above expectations on the friction of greatness. The core of this greatness involves time-worn game concepts that have been freshened up with some new thread and a lot of care.

These game concepts come from across the many Mario titles. The map that allows you to navigate the Worlds and their sublevels is lifted from Super Mario Bros. 3. There are alternate routes through the maps, encouraging exploration and experimentation, as in Super Mario World. The butt-stomp and wall-jump from Mario 64 are here as well, and seeing them executed well in a 2D environment is well worth the price of admission. The only game element that somewhat disappointed was the powerup department. While the mega mushroom is a fun novelty the first time around, it has a fairly limited usefulness. There's also a mini mushroom, which makes you very small; Perfect for long floaty jumps and getting into tight spaces, but not that much fun. There's also the Troopa suit, a turtle shell that effectively turns Mario into a Koopa Troopa. You can run, get up some speed, and slide in the shell through enemies, knocking them akimbo. These are fun elements, but compared to genius like the flying Tanooki suit or the invincible Kuribo Boot they seem somehow a little thin.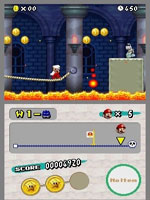 Mario's transformative costumes aside, the quality of design here demands exploration and concerted effort. Levels ramp up in difficulty as you move through the Worlds. Requirements for completion go from 'a carefree leap or two' to 'carefully planned trial and error assaults'. Enemy placement is always designed to challenge and occasionally frustrate, but never to provoke calls of 'cheap!' Each world has a theme, of course, with World 2 being a sandy desert and World 5 covered in snow and ice. Within the overall theme of the World, each level provides thoughtful variation. Their overworld map appearance gives hints of what they'll be like; levels located in pits on the map are the familiar subterranean levels, while those on the edge of the ocean tend to have aquatic elements. Some levels are special cases, such as the towers and castles that dot each world. The tower is a mid-level challenge, a chance to face Bowser Jr. (Princess Peach's jailer) and drive him further along the map. The castle is the penultimate showdown for the current World, and defeating Jr. there drives him on to the next World. Generally unlockable, there are *-A levels that are entirely aquatic (and filled with swarming fish). There are also Ghost Houses, as in Super Mario World, which pit you against the surreal surroundings of the Boos and their crews.

The World map, then, is informative; It can also be frustrating. Scattered across the map are paths that are unreachable, tantalizing areas that beg to be unlocked. Some, like the powerup mushroom houses, are simply blocked from the main path. These can be unlocked with the large coins you find hidden in every level. Entire levels, though, are secreted off branching parts of the World's path. These require you to exit a particular level via an alternate route in order to open up that part of the path. The flag at the end of each level may, indeed, not be the way out you want. These secret routes lead to hidden levels, warp pipes that allow you to skip around within a World, cannons that blast you across the sky to land in other Worlds, and in two cases even allow you access to Worlds that would be otherwise inaccessible. This exploration element is as entertaining as it is addicting; Wondering just how you get from point A to point B will have you puzzling over the World map for many minutes.

Those minutes will pass by quickly, though, with your eyes resting easy on the beauty that is New Super Mario Bros. The DS has come into its own in the last year, with titles like Metroid Hunters proving the surprising power of Nintendo's two-screened beast. NSMB doesn't push the console the way Metroid did, but the game's graphical presentation is just as rock solid. The 3D elements that are incorporated into the 2D maps make the game pop out at you, as Mario and the various enemies shuffle and run through the colorful environments. The big smiles, though, are likely to come from the little touches. As mini-Mario, you can run across the surface of water, with splashes kicked up by the tiny plumber's pumping feet. In World 5 packed snow hanging on background tree branches is shaken loose as you pass, trapping you for a moment under a mound of wintery goodness. The environments are interactive and imaginative, and scored in the same style as all of the classic Mario titles. In order to avoid burnout by including endlessly familiar tunes and sound effects, there's a good deal of differentiation from the older titles musically. Just the same, you'll recognize where they're coming from with the underground theme, the noise when Mario loses a powerup, the particular blip as a Goomba is flattened, and the frustratingly familiar musical sting when you fall into a pit. These variations put you in the right state of mind, but don't come out of the box already old or annoying.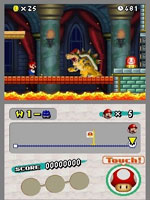 This preoccupation with recreating the familiar in a fresh way is, ultimately, why New Super Mario Bros. succeeds. The tight control of a leap atop a wandering Goomba is a gaming moment that, while certainly not new, never fails to be somehow special. NSMB taps directly into this with level design, musical scoring and sound effects that harken back to the best days of the NES and SNES. Even while the game looks backwards, it keeps its feet firmly in the now. The game looks terrific, is a challenge for a gamer of any skill level, and offers plenty of exploration elements to keep your mind active. There are even some WiFi multiplayer elements borrowed from the DS port of Mario 64, to keep you and a friend company on long trips. Some may look on this title as falling short of greatness. I see New Super Mario Bros. as competently meeting the expectations of our gaming heritage. Some games last a few hours, and some last a lifetime; This game was already a classic by the time I'd slotted it into my DS. NSMB belongs on the shelf alongside God of War or Half-Life 2, part of a stack I'll be carrying with me for a good, long time.