1489877
story
In the age of months-early previews, reviews the day the game ships, and opinionated bloggers, it's always really nice to find something unexpected in a videogame. I went into Yakuza expecting something like GTA in Japan, and was very pleasantly surprised. I've been frustrated by this before, but here Amusement Vision presents an engrossing story strung together by a bare minimum of gameplay ... and it completely works. Yakuza is a Japanese gangster story with a uniquely cultural outlook, some very different minigames, and a zen-simple but highly enjoyable combat mechanic. If storytelling and character development mean as much to you as framerate and polygon counts, read on for my impressions to see if this title is for you.
Title: Yakuza
Publisher: Sega
Developer: Amusement Vision
System: PS2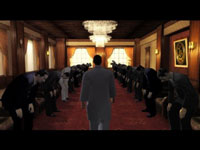 When you have a real novelist write your story for you, it's more compelling than something dredged up from High School notebooks. Not a hard concept to grasp, but something I haven't seen put into practice nearly often enough. Here, at the end of the sixth generation of game consoles, there seems to finally be some time to concentrate on story. Hase Seishu, a well-known Japanese crime novelist, has crafted a stirring tale dripping with a Japanese aesthetic. The game follows the exploits of Kazuma Kiryu, a gangster caught up in the internal politics of a Tokyo crime family. He takes the fall for a crime he didn't commit, spends a good long time in jail, and upon his release sets about discovering what happened to his friends and loved ones.

What follows is a surprisingly deep story. A tale that begins with a fairly straightforward structure quickly twists and turns, involving money, women, and the power structure of the Yakuza clans. Behind all this, the numerous stories that make up daily life in a little corner of Tokyo take place. Given the setup, you'd think the story would be dominated by swearing gangers, domestic violence, and bad voice acting. With the exception of the cursing gangers, there's little overly cliche about this tale. The story takes a lot of time to establish the humanity and character of the gameworld's inhabitants. Kazuma in particular is a surprisingly broadly written and human protagonist; along with busting in teeth and staring down hardened killers, he is not above escorting little girls to safety and searching out dog food for a starving puppy.

Where the story struggles, unfortunately, is where it dictates gameplay. There are many story elements that require simple fetch quests. After the first few chapters or so, you're going to wish they were more willing to mix up the story-based gameplay. These runs through the city streets also highlight an unflattering result of the game's slick look: load. As you move from street to street within the district, you'll experience 'pregnant pauses', as the game caches art assets for the next area of the city. Actual load screens only occur when transitioning from in-engine play to cutscenes, but they too are just a little too long to be comfortable. Load times aside, these excursions into the Kabukicho district of Tokyo are beautiful and help to establish the character of the area. They're also well documented; an arrow points the way to a glowing part of your mini-map. The rich environment of the city also allows you access to a number of very unique minigames, such as batting cage practice, ring fighting, and what is essentially a girlfriend simulator. Each of these elements play a small part in the overall game, but even then I thought they could have been thought out a little more fully. That said, they're highly appreciated diversions from the main storyline. How often in a game do you find yourself thinking "Would this virtual woman like perfume or jewelry better?" or "Should I order her the champagne or tell a dirty joke?"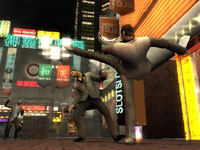 The ring-fighting is essentially just the game's fighting mode opened up for consistent cash prizes. Thankfully, though it is simple, Yakuza's combat is robust enough to be enjoyable. For most of the game, you'll find yourself engaged in combat at specific plot-dictated moments. You can also be accosted in the streets, facing down younger Yakuza thugs or street gangers. Initially, these combat sequences feel rote and repetitive. During the first few fights, you're mostly going to be mashing the square button. The catch, here, is that you'll be plowing through the plot as well, the game's story hooking you in. Just as you realize that you actually care about the story's characters, you're going to find that the combat gameplay has grown as well. As the story progresses, you can choose to level up different aspects of Kazuma's fighting prowess. Unlocking new levels of his body results in a longer lifebar, and higher levels in technique opens up new moves and combos. It's no Soul Calibur, to be sure, but the solid mechanics and ever-changing backgrounds do a lot to save what could have been throwaway gameplay.

From an artistic perspective, Yakuza is superlative. Sweeping camera moves as you travel allows for dramatic reveals of the Kabukicho district. At night, your eyes are drawn to the stark contrasts of dark buildings and blazing neon. The rain-slicked streets and swarms of consumers make for a vivid backdrop against which to play out Yakuza's story. Character art and animation is top-notch, with Kazuma in particular a study in how to make a protagonist memorable. The voice acting is highly skilled as well, lending a great deal of credibility to what could have come off as an over-the-top melodrama. Unfortunately, from a technical perspective, Yakuza is yet another in a long line of games that illustrates where the PS2 is in its life cycle. The worst offender is the aforementioned loading lag, which makes it harder to seamlessly navigate the game's beautiful world. I also found myself wishing there weren't quite so many jaggies filling my screen. The title's overall look and sound is top-notch, and another testament to the double-edged sword of an end-of-lifecycle console.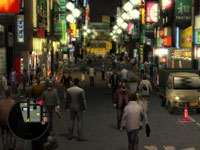 With Yakuza, Amusement Vision and Sega have released a high quality experience. It's definitely not for everyone; it's not 'hardcore', there is far from 100+ hours of gameplay, and the action is considerably more sedate than some might like. This team has created a great game by doing what many others consider the antithesis of the medium: aiming small. Characters are set in a single district of Tokyo (just a few blocks on each side), and placed in a story that explores the humanity of men made to do inhumane things. There are no space pirates to slay or worlds to save; it's just one man, and the people he cares about. Yakuza sets that stage perfectly, and makes you give a damn about the players. My only real and lasting complaint about this game is its length; it's only about ten hours long. With the announcement of Yakuza 2, even that frustration falls to the wayside. It may not be 'next-gen' in terms of visuals or gameplay, but Yakuza transcends the generations with its quietly competent storytelling. I can only hope some of the titles coming to the Wii, 360, and PS3 make an effort to do some looking back, as we plunge forward into the next age of gaming.