1489717
story
Beginning with the original 1993 SNES title, Nintendo has toyed with the space combat series
Star Fox
in a number of ways.
Star Fox Adventures
added a
doodad-hunting adventure format
, while last year's
Star Fox Assault
included ground-based battles that managed to actually detract from the game's appeal. Now on the DS, the
Star Fox
series has experienced yet another format shift:
Star Fox Command
. Command offers some simple strategy elements, an innovative control scheme, and the tried and true dogfighting gameplay the series is known for. It also dwells on one of the series' weaknesses, plot, to the detriment of the game. Despite that and a few other issues,
Star Fox Command
will provide some quality space combat for anyone looking to kill some time, and a few aliens. Read on for my impressions of Nintendo's latest core series release.
Title: Star Fox Command
Publisher: Nintendo
Developer: Q-Games
System: DS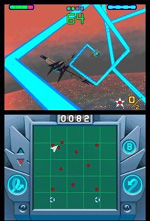 The SNES version of Star Fox was a landmark experience for many gamers. It was one of the first graphically intensive console titles, and offered some new twists on the staple space shooting genre. It was pretty, it was fun, and if you chose the hard path to Venom it was really hard. Star Fox titles since then have been muddled by additional, less successful, game elements. The core gameplay has always remained relevant, though, and is framed beautifully by some tasteful additions in Command.

In Star Fox Command, you take on the roles of Fox, Slippy, Falco, and the rest of the the Star Fox band, in an attempt to deal with new threats to the known universe. Dr. Andross, the boss from previous games, has been defeated. As a result of interpersonal problems, the gang has broken up and moved off in their own directions. Always trapped in the role of Johnny Hero, Fox McCloud takes on the alien race known as the 'Anglar' in an attempt to keep the peace he's bought with most of his life. Along the way, McCloud runs into the other members of his former squadron and enlists their aid to save the day. It's all pretty traditional stuff, and you'll probably find yourself tapping the stylus over and over on the 'next' button to get into the actual gameplay. The only real point of interest here is that the game's replayability is rooted in the story. After you beat it once, moving through the conversation options you have available, you'll be able to go back and play through again with new witty things to say. Each complete trip through the game is a fairly quick experience, and you should have no problem moving through all the options in a few days. I found this 'space opera lite' storyline fairly predictable and forgettable. Just the same, it's commendable that they've given you the option to explore it more fully as a side effect of accessing new content.

Though it sets the game apart, I also found the title's strategy elements to be more enjoyable as a means of getting to the combat than as a distinct game feature. In order to engage in combat on the many worlds, you'll have to navigate a tactical screen and direct your pilots. On the strategy screen are all the pilots you have available, the Great Fox mothership, and any enemy groups you'll have to take out. By drawing a line with the stylus you direct your pilots into the path of enemy groups, thereby engaging them. For any given scenario you're alloted a specific number of turns to accomplish your goals. If you fail to destroy all of the enemies in the allotted number of turns, you lose. This Advance Wars-style control scheme is complicated by several additional elements. The goal of the enemy groups is not to engage you: they are aiming to take out the Great Fox. Fail to intercept one of these gangs and you'll forfeit your mission completely. A fog of war hides and distorts reliable intelligence on enemy movements, and impassable barriers make planning out the movements of your pilots a requirement. If this sounds challenging, it isn't. A few levels into the game you'll have all of these elements under your belt, and the tactical screen will become just another barrier between you and the fun part: space combat. As with the branching plot, though, it's an interesting way to mess with the Star Fox formula. It's also far less objectionable than, say, tanks.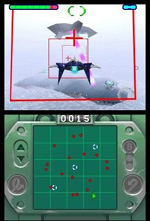 Among the many tweaks to the gameplay, though, what shines is the combat control scheme. It takes a little bit of practice to appreciate the fluidity and power Q-Games has offered you here, but it's worth the time and energy. With the ship's stick in your hands, you control every aspect of your craft via the stylus. You move the stylus in the direction you want to fly, changing attitude and pitch with intuitive dragging movements. To fire thrusters you double tap, and quickly rubbing from side-to-side executes a barrel roll. You can also execute u-turns, and fire bombs, all from the touch screen. The only action you can't take with the stylus is firing, and that's accomplished by pushing any of the buttons on the DS. This can result in some discomfort, unfortunately. I really enjoyed using the stylus to fly, but had to cramp up my hands in order to hold the DS, fly, and fire at the same time. Other large-handed individuals playing on a Lite may experience similar problems.

The discomfort is worth it, though, because flying, shooting, and keeping your time meter filled are a whole lot of fun. Each mission has a falling timer, and if you run out of seconds you're through; you can also fail a mission by running out of shield strength. The goal of each mission is to take out enemies with special cores, with a certain number of cores required for each mission to be considered complete. Time icons are obtainable to extend your mission length, as are shield regenerators, bombs, and other power-ups. Barrel-rolling is a required tactic, as it not only deflects harmful blasts but adds a small amount to your time as well. The catch is that all of these elements (shooting down enemies, watching your shield strength, keeping your time up) have to be accomplished in little more than 60 seconds. Even boss battles are very quick, and failure is something you'll be faced with until you have the controls mastered. At that point things may become a bit rote, but by the time they do you'll probably have finished the last iteration of the game's storyline anyway.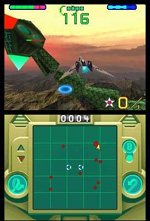 Visually, the game holds up well when compared to more recent titles. The original games combat graphics, which wowed me when I was 13, would probably seem a little crude by 2006 standards. They've managed to keep the 'feel' of the blocky polygonal look that founded the series, while offering a lot more detail and some fabulous looking backgrounds. Command manages to recall fond memories of older games, while retaining the look of newer titles. For a series that's had a rough go of it the last few times on the market, this deliberate graphic nod is a great touch. Enemy and friendly units alike have a likeable look to them, with some especially tripped out looking creatures coming your way from the depths of the Anglar fleet. I do wish that terrain and map elements had been more thoughtfully implemented; as it is combat arenas have a sort of randomly generated quality to them that I felt could have been more polished. The game's audio is adequate, with mostly throw-away sound effects. They've kept many of the same effects from earlier games, adding to the nostalgia quality of the graphics. Music, too, has some similarities to previous incarnations in the series. Fans of the original game's martial theme will not be disappointed, as it makes a remixed (and skillfully composed) appearance here.

Like its predecessors, Star Fox Command is not intended as a long-term gaming commitment. Instead, the title delivers fast-paced space shooting, enjoyable retro graphics, and some tactical tweaks to the series standards. Wireless multiplayer is even an option, with or without additional carts. Command is the kind of popcorn-depth game that is great every once in a while to cleanse your palate. It's the perfect road-trip game, or something you can breeze through in a long weekend. Given the lackluster efforts of the last few Star Fox series titles, it's refreshing to see Nintendo and Q-Games shaking things up by going back to the game's roots. If it's broke, fix it. If you're looking for a quickie game in between the heavyweight titles coming at us this fall, Command has enough simple, honest gameplay to make your hands spasm in enjoyment.