74113427
story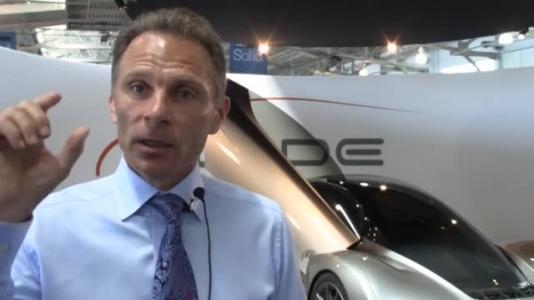 Last month, in a story headlined
3D Printed Supercar Chassis Unveiled
, we promised video interviews with builders Kevin and Brad "in the near future." Here they are. First, we have
Kevin Czinger
, Founder & CEO of
Divergent Microfactories
. He says the way we
build
cars is more important from an environmental standpoint than how we fuel them, and that the way we make cars now is a lot less efficient and a lot more expensive than it needs to be. Divergent's first demo vehicle, the Blade, is a tandem-seating 700 HP supercar its makers say does 0 - 60 in 2.5 seconds. Price? No word yet, but it's safe to assume "plenty" might be an accurate guess.
In the second video, Blade project lead Brad Balzer goes into detail about how, why, and where they use 3-D printing, and explains the modular nature of their car chassis design. He says they don't need to change many parts to go from ultra-sports car to pickup truck. He also says that while Divergent Microfactories is working on cars right now, their manufacturing system can be applied to many different industries. Indeed, their long-range goal is to help people build microfactories making many different kinds of products faster, more flexibly, and for less money than it takes to make similar manufactured items today.
Note: The transcript covers both videos and has a little 'bonus' material in it, too.