72845031
story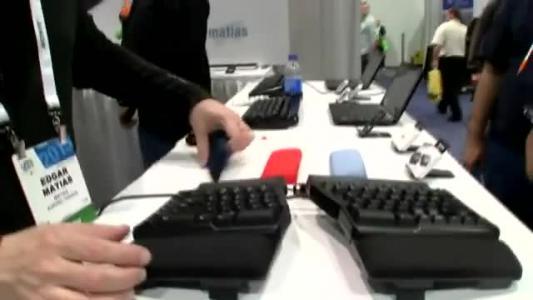 For a good number of years, the sound of the old IBM or other mechanical keyboard clacking away was the sound of programmers (or writers) at work on their computers. Then, according to
Edgar Matias
, president and cofounder of the
Matias Corporation
, computer companies started using membrane switches and other cheaper ways to make keyboards, which made a lot of people mutter curse words under their breath as they beat their fingers against keys that had to go all the way to the bottom of their travel to work, unlike the good old mechanical keyboards we once knew and loved.
Enter Edgar Matias, who started out making the
half keyboard
, which is like a chorded keyboard except that you can use your QWERTY typing skills with little modification -- assuming you or your boss has $595 (!) to lay out on a keyboard. But after that Edgar started making QWERTY and Dvorak keyboards for semi-competitive prices. FYI: No Slashdot person got a free keyboard (or extra money) for making this video, but I have a Matias keyboard, and in my opinion it's far better than the cheapie it replaced. A lot of other people seem to want "real" keyboards, too, which they buy from Matias or from other companies such as
Unicomp
, which makes keyboards just like the classic, heavily-loved IBM Model M. Again, I've owned a Unicomp keyboard (that I bought; it was not a giveaway) and it was excellent. Both companies put out quality products that are far easier on your hands and wrists than the $10 or $20 keyboards sold by big box electronics retailers.